Celebrity Puppies!
See your favorite celebrity stars at play with their best furry and fluffy friends! Be it puppies or dogs, our celebrity picture gallery is dedicated to celebrities and their pooches! Get your star-fix here!
Did you know?
" Did you know? Dogs can be trained to detect elliptic seizures in humans before they occur. Smart puppies! "
Puppy Review talks about ways to help your dog cope with the pain of arthritis.
Continue reading...

Pugs are the ultimate companion dog. Living to please their owner, this small dog bred is even-tempered and playful, with minimal exercise needs.
More Pug information...
Random Puppy!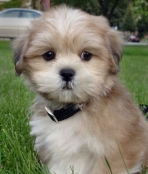 This is a great dog with a friendly, assertive, personality. This dog makes a great pet as it is intelligent and lively. Lhasa Apsos are spirited and devoted little dogs, that are affectionate with all their owners
More Lhaso Apso information...