Rate Our Cutest Puppies!
Below are pictures of Puppy Review's Cutest Puppies and Dogs as chosen by you.
Put food in the bowl of your favorite adorable dog to have them featured our homepage!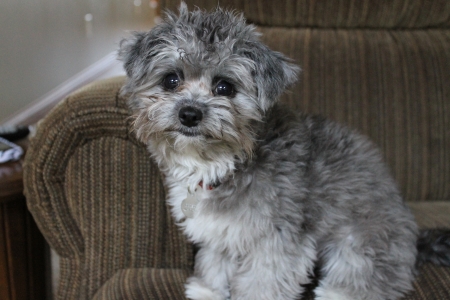 Betsy is always watching!
Betsy's photo was posted by Cheryl McDonough
Vote!
Vote now to fill Betsy's bowl!
Betsy's
Yum! Betsy says thank you for the food!
Page 1 of 52 pages of Puppies! - Next Page

Did you know?
" The Shar-Pei originated more than 2000 years ago in Tibet or China. "
Puppy Review talks about ways to help your dog cope with the pain of arthritis.
Continue reading...

Pugs are the ultimate companion dog. Living to please their owner, this small dog bred is even-tempered and playful, with minimal exercise needs.
More Pug information...
Random Puppy!

The Aidi is a Moroccan dog breed typically used to guard herds of sheep and goats. This dog is also known for its hunting skills and has good scenting ability.
More Aidi information...