West Highland White Terrier
West Highland White Terriers are a dog breed that is easily trained and rather obedient. Your Westie puppy will get along well with strangers and children, and will tolerate a certain level of rough play from children. This dog breed travels well also. Their obedience and intelligence will make your Westie puppy easy to housebreak and train. West Highland White Terriers love to play and are very lively dogs. This energetic dog breed likes to chase a ball and will love your companionship. Despite its small size, the West Highland White Terrier also makes a very good watchdog. Westies are also known to chase cats if not introduced to them at a young age.
Group:
Terrier
Size:
Small / Toy
Height:
10 to 11 inches (25.4 to 27.9 cm)
Weight:
13 to 20 pounds (5.9 to 9.1 kgs)
Life Expectancy:
13 to 15 years
Origin:
Scotland. Westies come from Poltalloch, Scotland.
Companionship

Is great around children.
Makes a great house dog.
Makes an excellent companion for a person living on their own.



Space Requirements

Needs at least a small yard to play in.



Weather Conditions

Does well in most climates.
Popular West Highland White Terrier Cross-Breeds:
Cavestie - Cavalier King Charles Spaniel X West Highland White Terrier Chestie - Chihuahua X West Highland White Terrier Cocker Westie - Cocker Spaniel X West Highland White Terrier Highland Maltie - West Highland White Terrier X Maltese Jaland - Japanese Chin X West Highland White Terrier Peka-A-West - Pekingnese X West Highland White Terrier
Temperament
The West Highland White Terrier is:
Affectionate
Confident
Friendly
Lively
Trainable
Health Concerns
Hip dysplasia, Kidney Stones
Celebrities with West Highland White Terriers



We haven't found any celebrities with this puppy just yet. If you know one, please contact us!
Puppy Review talks about ways to help your dog cope with the pain of arthritis.
Continue reading...

The Alaskan Klee Kai is a highly intelligent, very curious, active, quick and agile little dog that quickly becomes an integral part of any family that chooses to adopt one. Unlike the Siberian Husky whom they resemble, the Alaskan Klee Kai is standoffish and suspicious of strangers. Because of this they do make extremely good watchdogs.
More Alaskan Klee Kai information...
Random Puppy!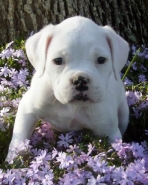 The Boxer is happy and playful dog. In fact, many owners say that this energetic large dog breed does not grow out of the puppy stage!
More Boxer information...